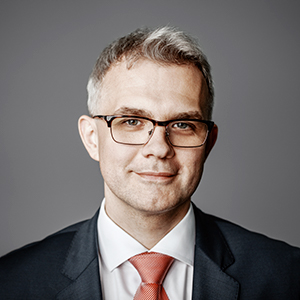 Ladies and Gentlemen, Dear Shareholders,
I am pleased to present to you the Integrated Annual Report of the LOTOS Group for 2017, which provides ample evidence of not only the Company's strong financial performance and consistent implementation of its strategy for 2017–2022, but also of its commitment to sustainable development in the past year.
At the outset, I would like emphasise that our Company's greatest asset is its employees and that none of the achievements you will read about in this Report would have been possible without their dedication. On behalf of the Management Board of Grupa LOTOS S.A., I would like to extend our sincere thanks to all of the Group's employees.
2017 saw record-high financial performance by Grupa LOTOS. Optimal asset management by the Company and its taking maximum advantage of favourable market conditions as well as effective measures taken by the Polish government to combat the 'grey market' led to consolidated revenue of more than PLN 24bn, up by over 15% year on year, and net profit of close to PLN 1.7bn, up by as much as 65% year on year. We are also proud to have delivered highest-ever LIFO-based EBITDA, which in 2017 came in at PLN 3.1bn.1
In line with the Company's robust performance, the price of its shares on the Warsaw Stock Exchange rose from approximately PLN 38 in autumn 2017 to a high of PLN 69. We also paid the first dividend in a decade.
Taking advantage of favourable macroeconomic conditions, we managed to reduce the Company's net debt by PLN 2.3bn and optimise its structure, which resulted in a safe financial leverage of 23% at year-end.
Grupa LOTOS's refinery is among the most technologically advanced ones in Europe and is currently undergoing yet another key upgrade. In 2017, we processed more than 9.6m tonnes of crude oil. We are the second largest producer of fuels in Poland. Every third car in the country fills the tanks with fuel produced by our refinery.
We either own or hold interest in 33 offshore and 10 onshore licences. In addition to conducting upstream operations in Poland and the Polish zone of the Baltic Sea, we also produce hydrocarbons on the Norwegian Continental Shelf and in Lithuania. In 2017, the sum of our 2P reserves rose to 88.2m barrels, with production at 8.4m barrels.
One of Grupa LOTOS's strategic objectives for 2017–2022 is to enhance the security of our environment in line with Poland's economic, environmental and energy policies, including by taking measures to diversify our feedstock sources. As part of our efforts to achieve this goal, we restructured our upstream operations, a process which included establishing LOTOS Upstream, a company dedicated to managing the Group's upstream activities and investment projects.
Own hydrocarbon production, which is our key business segment, helps us diversify feedstock sources and thereby reduce business risk, while significantly enhancing Poland's energy security. Our diversification efforts last year included purchase of feedstock from the US and Canada and signing a forward contract for the supply of US crude oil.
We are guided by the principle of sustainable development in all our business areas, which translates into building value not only for our shareholders, but also for our environment and diverse stakeholder groups. We are convinced that in pursuit of sustainable development we will continue generating profits for shareholders, providing high quality products and services, and ensuring energy security for Poland. Committed to sustainability, Grupa LOTOS cooperates with the United Nations Global Compact on an ongoing basis, has joined a partnership for the UN Sustainable Development Goals 2030, has been listed in the RESPECT Index, and was ranked 4th in the 11th edition of the Responsible Business Ranking.
In order to be able to fully satisfy consumer requirements and maintain our competitive edge, we remain focused on our innovation projects, including, in particular, those related to low-carbon transport and alternative fuels, such as hydrogen, CNG and LNG. One of our most ambitious strategic objectives is to become the leader of the Polish next-generation fuel market. We have been also developing our know-how associated with the use of hydrogen as a fuel for vehicles and as a means to store energy.
I am pleased to be able to report to you our strong performance in 2017. On behalf of the entire Management Board, I would also like to assure you that we will make every effort to ensure that through our decisions we continue to deliver value for all Grupa LOTOS stakeholders.
1 – Net of one-off events and direct costs of a maintenance shutdown at the refinery
Yours faithfully,
Mateusz A. Bonca
President of the Management Board
Grupa LOTOS S.A.