LOTOS is a Polish group, which operations are of strategical importance for national safety in scope of energy, as well as for the Polish economy.
We are one of the biggest enterprises in Poland and second largest fuel refiner in our country. Moreover, we are one of the biggest oil companies in the Central and Eastern Europe.
Our operating activity covers the scope of extraction and processing crude oil and natural gas, as well as sale of petroleum products of highest quality. We manufacture and deliver, among others, unleaded petrol, diesel oil, light fuel oil, aviation fuel, heavy oil, naphtha and liquefied gas propane-butane (LPG) and lubricants and bitumens.
We are a vertically integrated fuel refiner and producer of chemical products of highest quality, and we also provide highly specialized logistics services and maintenance services. We aspire to become the national leader of innovative implementations as part of our core business.
The headquarters of Grupa LOTOS S.A. is: ul. Elbląska 135, Gdańsk.
LOTOS in numbers

In 2017, we processed
over
of crude oil.

In 2017, the total level
of hydrocarbon extraction
amounted

concessions for prospecting,
identification and extraction
of hydrocarbons offshore.

concessions for prospecting,
identification and extraction
of hydrocarbons on-shore.

the number of petrol
stations operating
under LOTOS brand

increase in domestic
sales in year 2017.
Strategy of the Corporate Group HERE
The corporate group, besides Grupa LOTOS S.A. (parent company, managing the oil refinery in Gdańsk),
currently, that is as of 31 December 2017, consists of 17 LOTOS companies. The headquarters of two of them are situated abroad: in Lithuania and in Norway.
In 2017, the LOTOS Group was joined by two new companies: LOTOS Upstream and LOTOS Vera. LOTOS Upstream shall function as a holding company, thus ensuring the division of operational and managerial functions in the scope of prospecting and extraction in LOTOS Group. LOTOS Vera, a subsidiary of LOTOS Lab, shall function as special purpose vehicle, dedicated to developing innovative technologies.
More about our business model HERE
We own concessions for prospecting, identification and extraction of hydrocarbons offshore (33 concessions) and on-shore (10 concessions). 74% of our extraction is performed at the Norwegian Continental Shelf, the rest comes from fields in Lithuania and in the bottom of the Baltic Sea. We are the sole producer of hydrocarbons within Poland's Exclusive Economic Zone of the Baltic Sea, where 21% of our extraction comes from. In 2017, we extracted 8.4 million boe and the proven oil and natural gas reserves in 2P category (proved and probable) amounted to 88.2 million boe.
Our products and brands are present in 82 countries
We operate in 82 countries. However, our products are sold mainly in Poland and other European countries, including Germany, the Netherlands, Belgium, Sweden, Denmark, the United Kingdom, France, Estonia and in the Czech Republic. The range of products and services sold and performed under our brand is really wide. Among them there is a wide range of motor fuels of highest quality, sold in Poland at 493 conveniently situated petrol stations (including 20, so-called, Motorway Service Areas, situated next to highways A1, A2, A4 and A6 and express roads S3 and S7), wide range of oils (i.e. motor and industrial oils), car care products, various road construction bitumens and other industrial bitumens but also, for example, JET A1 aviation fuel (sold by LOTOS Air – BP), as well as numerous LOTOS brand services, among them logistics (by LOTOS Kolej) and security (by LOTOS Ochrona).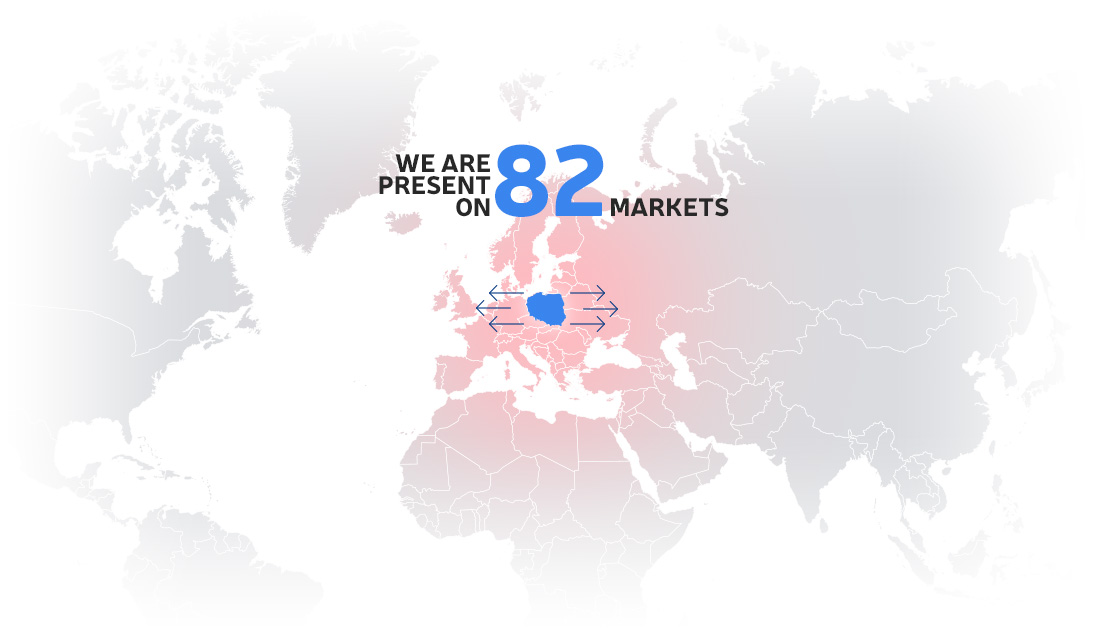 List of all our products and services HERE
Map of our petrol stations HERE
Products in the offer of LOTOS OIL HERE
Products in the offer of LOTOS ASFALT HERE
We are successful in stock exchanges
Grupa LOTOS S.A., as the dominating entity in the corporate group, is a stock company, where 53.19% of the shares is owned by the State Treasury, what makes it the majority shareholder of the company. Our shares have been listed in WIG 20 index and on the Warsaw Stock Exchange since year 2005. Since 2009, we have been a member of the first index of socially responsible businesses in Central and Eastern Europe – the WSE's RESPECT Index. Moreover, our shares are listed on the WIG-Paliwa segments, the MSCI World Index and the FTSE EM (an index on the London Stock Exchange for emerging markets).
When it comes to sales, the year 2017 has been very prosperous for LOTOS Group. The domestic sale increased by 19% and as a Group we have reached record financial results (consolidated income of the Group increased by 15.5%, exceeding PLN 24 billion and the net profit was bigger by 64.7%, amounting to PLN 1.67 billion), what resulted in high quotations of our shares, which price has risen from PLN 38.25 (closing price in 2016) to PLN 57.7 at the end of 2017. Thanks to good financial results we have significantly reduced our level of debt and,  for the first time in a long time, we have also distributed a dividend.
More information about our share capital structure HERE
We are a member of multiple industry associations
We are a member of many Polish and international organizations, from specialistic associations uniting entities acting on the areas of fuel industry or energy and chemical sectors, through business organisations focused on domestic development, to organisations promoting the idea of corporate social responsibility and other specialistic organisations. We are a member of, inter alia, Central Europe Energy Partners, Fuels Europe, Polish Organisation of Oil Industry and Trade, Polish Business Roundtable, United Nations Global Compact (the world's biggest international initiative engaging entities promoting sustainable development) and the Employers of Poland.